It was a Forrest Gump sort of day…. like a box of chocolates. We had no idea what we were going to get. Diane bid us adieu and departed for Arizona. Route 14 through Big Horn National Forest is another surprise – a must ride. The Old Bags rode through a canyon and stopped near 500 million year old Dolomite cliffs. The rushing stream provided a great pace to look for cheap souvenirs. Signs further down the road indicated the rocks were Pre-Cambrian Granite – 2.5 billion years old. It definitely made the Old Bags fell a tad young.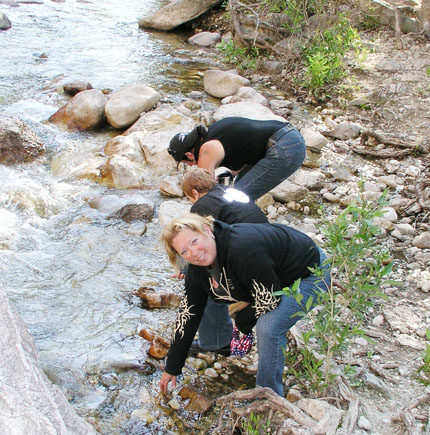 Sometimes the music selection just hits it on the head. The Shaker Hymn "Simple Gifts" played as the high pastures (altitude = 9K+) rolled by and underscored what a gift it is to be free and able to appreciate the magnificent beauty of the country.
Wild Kingdom. The animals were on the road today. A small white faced black calf mistook a white helmeted, black Road King for its mama (until the engine revved). Refusing to yield, a pheasant challenged each bike for ownership of the road as they passed. There were also these small antelope things, jackrabbits, deer, prairie dogs and the soaring birds of prey.
An interesting aerodynamic phenomenon occasionally occurs when wind conditions at highway speeds interact with an untucked T-shirt. All of a sudden, the T-shirt is up around your neck! Consider the reaction of the folks in the vehicle next to you. They've either gotten their thrill for the day or you've scared them half to death.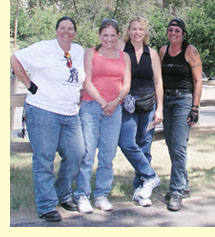 Lunch found each of us building dioramas with our food – especially the mashed potatoes. Then it was on to Devils Tower National Monument; the very first National Monument. It was there that we encountered two women who have been following our progress; Nancy and Laurie from Wisconsin. They waved from the side of the road and then asked if we were "those girls riding around the US."
"Why, yes. Yes we are those girls!" was the reply.
Deadwood is a very cool spot. There is history on every corner – and it's a great place to visit if you are a fan of the HBO show.
We arrived at the La Quinta in Rapid City, SD, and washed our absolutely filthy bikes. I didn't know it was possible to cake on that much dirt and bugs.
Road Signs:
SLOW SHEEP X-ING
Prairie Dog Crossing
Do Not Feed the Prairie Dogs
What We Learned Today:
• Make sure the top of the ketchup bottle is secured before vigorously shaking it.
• The bike runs better at top speeds in 5th gear.
448 miles ripped by today on the trip from Cody, WY to Rapid City, SD.