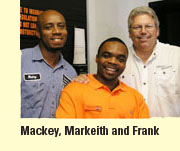 Hace mucho calor!!! The word for today was HOT. Today was also Change Your Oil Day. Central Texas H-D of Austin made quick and efficient work of oil changes, some add-ons and one major repair. Ad's bike had an inner primary leak fixed. The folks at Central Texas H-D couldn't have been nicer. Frank, Mackey and Markeith wrote us up and kept us informed. Denny and Frank gave us shirts. And Service Tech Jerry Grillo, Margaret's son, had a chat with us. I'd take my bike their regularly if they weren't so darned far away from Long Island.
And then someone switched on the heat. We departed in the early afternoon, got on I-35 South and promptly came to a halt. I thought Long Island traffic
was bad... The amazing thing about traveling in heat like this is when the road surface changes, so does the heat. We went from concrete to freshly laid (black!) asphalt and it was like someone put us in a blast furnace. Once again, loved those Cool Vests.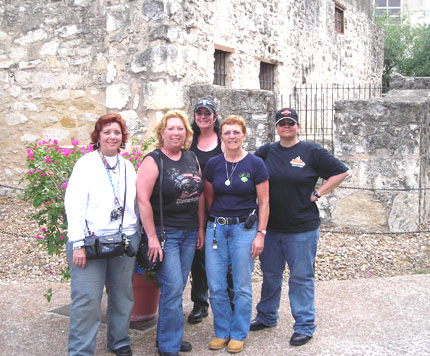 We made it to San Antonio and visited the Alamo. You've all seen the movie, yes? Well this was the real thing. What an amazing piece of history. What beautiful, hallowed ground. William Travis, Jim Bowie and Davey Crockett walked where we walked. Yes, we asked for directions to the basement. Looked all over for Pee Wee's bicycle to no avail. I don't think it was there
at all!
The Old Bags join Bianca Chacon, Ronnie Ruiz, Ray Harmon, David Tesillo, Celeste Barron at Harmons

Our evening repast consisted of some genuine Texas Barbecue. Harmon's —
right close to the Alamo, serves up some outstanding local cuisine that the Old Bags highly recommend. If you are ever in San Antonio, look them up.
Ran out of clothes. Did laundry.
Also — the GPS has been renamed
"Magic Thing."
What we learned today:
• Taking a quick chug of water to rinse your
mouth and spitting it out at 70mph
is not a good idea.
• Just because it is named Quality Inn doesn't make it a "quality" inn.
Moved from Austin to San Antonio, TX adding a mere 93.5 miles to the odometers today.