We left Farmington and headed to Four Corners — the only place in the US where four states come together. NM, CO, UT & AZ. It was a surprise to see so many bikes on the road… travelers from all over the country. (But we had them all beat!) There were several Native American merchants with goods for sale at the site so some shopping was in order.
Once again, the locale gave one pause — how beautiful, how breathtaking, yet how desolate. And it is quiet out here. Stopping to take pictures underscored the silence — all you can hear is the sound of the breeze.
The temps cooled off today. It was only 95.
Rode through a rain storm before we hit Moab and were dried off before we hit the hotel. We explored Arches National Park and made a game of beating the tour buses to the parking lots. Ha! Bikes are quicker!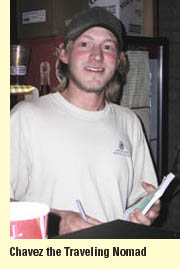 We enjoyed our evening repast at Isabella's where we met Chavez, the Traveling Nomad (aka Travis from Richmond, VA) An interesting young man with a good soul, he served us our dinner and shared some travel tips.
Road signs:
Bump Ahead
Share the Road
Open range
Things we learned today:
• Antennas hurt when they whip you in the face. (Beware the bike cover.)
• The spare camera battery will be at the bottom of the most tightly packed bag.
• You can wash your clothes while you wear them in a rain storm.
It was a light day - rode 274.6 miles before calling it a night.