It was jacket weather when we departed Mammoth Lakes and headed north to Yosemite, Ansel Adam's favorite place. Our first gas stop gave us a scare. It is almost unbelievable that people pay these prices regularly.
We wound our way through Tioga Pass encountering one beautiful vista after another. The upper part of Yosemite, Tuolomne Meadows, offered an opportunity to climb a dome as recommended by Ranger Tim Hecox at the Visitor Center. Once again, the roads were spectacular with sweeping turns and challenging grades on the way to Yosemite Valley. The mountain pine scented air was occasionally punctuated by the pungent odor of overheated car brakes from passing vehicles.
El Capitan rose majestically from the valley floor commanding the attention of all who passed. The Merced River rushed over rocks creating a wonderful sound and a visual delight. The sights, including several falls and Half Dome....wow!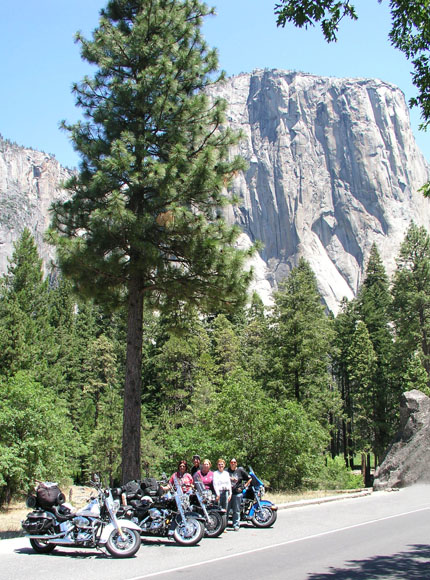 Riding west towards San Francisco, the temperature climbed into triple digits once again. Like Lawrence of Arabia crossing the Sinai, we pressed on through almost unbearable heat. A forest of windmills peppered the skyline of Altamont Pass, (and it is no wonder they put the windmills there—it's really windy!) creating a surreal moment in the trip. And then the temperature dropped...like a stone! Those heated seats came in real handy.
The fog had set in by the time we arrived in San Francisco, but the gracious hospitality offered us by Sr. Celeste Marie Nuttman, RSM and the other sisters at the convent soon warmed our tired bones. (Yes, Cat's still connected!)
Things we learned:
• The heat of a cup of coffee is directly proportional to the distance required to return to the hotel room.
• You can scrape the foot boards of an Ultra.
• Rock climbing plus unprotected camera equals one sad face.