Got up. Ate breakfast. Packed the bike.
Rode.
Got gas. (Paid attention to the sign that said "Next Service Area 110 Miles")
Rode.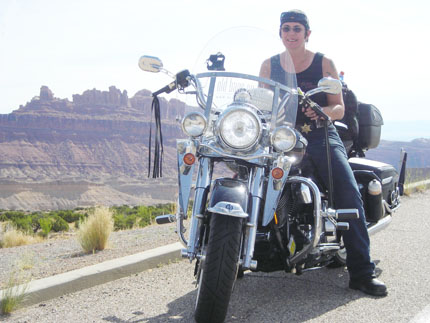 Today we encountered truly "cross" winds. They were not very nice at all! However, it was, surprise, jacket weather for most of the day, that is, until someone threw the heat switch and within a matter of miles we went from needing jackets to sweltering. Again, every turn elicited an "aaaaaaah" or an "oooooh" and the occasional stop was required to record the memory for posterity. Is there any other country in the world that contains the variety of landscapes that the US serves up? We also began to pass through some more significant elevations— harbinger of what's to come.
Duct tape is an amazing thing. It has unlimited potential for various uses. Today we found out that duct tape can be used to secure an errant custom ear plug. (Ear plugs are a necessity for this type of travel—that's if you still want to hear at the end of the day.) As wonderful a tool as duct tape is, a problem arises when it comes time for removal. Need anything more be said?
We stopped at Zion H-D, did some shopping and checked into our hotel. It was nice arriving early and it afforded us the opportunity to mail home accumulated items as well as some things that are just not needed. (Really thought we'd need that kitchen sink at some point! Oh, well.) Relaxed.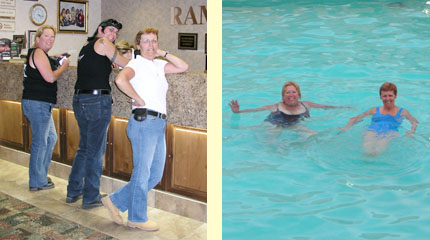 Road signs:
Watch for fallen rocks on the road
Road damage
Chain up area ahead
Things we learned today:
• A hair dryer must be plugged in to work.
• A fairing becomes a sail in high winds.
We traveled through Utah from Moab to St. George. 342.6 miles.