Today was a hard core travel day. Get from point A to point B efficiently. We departed Baton Rouge, LA early to avoid as much of the heat as was possible, but there is no escaping the oven once you are in it. "But it's a dry heat." Yeah, right. Triple digit heat is still triple digit heat. "Dryness" is an illusion. On a good note, the Cool Vests work. Those of us who chose to wear them today were pleased by their performance.
We stopped briefly stopped at Cajun H-D where, unfortunately, Ad had her head pinched off by an oversized crayfish. Oh well...bought a shirt and left.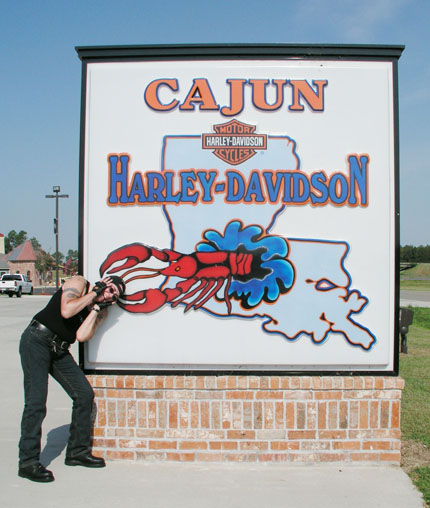 Saw many herons—blue, white and whatever. They were all over.
The ranch country of Texas was impressive. Large expanses of rolling hills, cattle grazing, but the trees were of noticeably diminutive stature compared to those we passed in VA, NC and TN.
Things we learned today:
• A sports bra is an important piece of clothing to have when traversing I-10 between Port Charles, LA and Beaumont, TX. It's the bumps in the road...trust me. Sorry guys, you just wouldn't understand.
• No matter which way you swerve, the bouncing cardboard box will hit you.
• Bean-based cuisine consumed the previous night will provide aerodynamic assistance with added thrust, thus increasing gas mileage.
Late afternoon brought us into Austin, TX after 422.4 miles in the saddle.
We spent a quiet evening at Antonio's restaurant where it just happened to
be bike night.